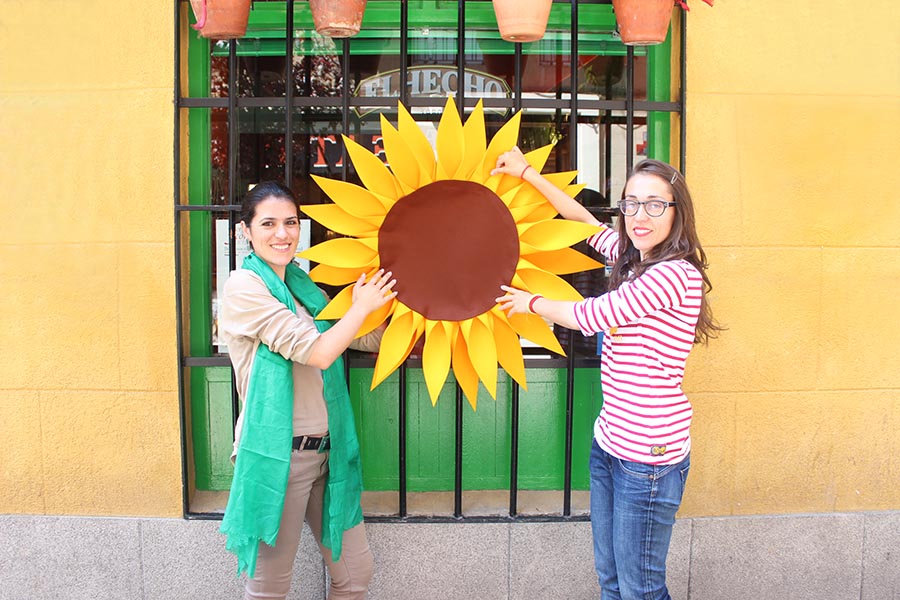 Dalalba in Decoraccion 2016
DecorAcción 2016 began yesterday in the Barrio de las Letras in Madrid, my neighborhood! and this year I decided to participate at the last minute accompanying my good friend Rosa Alvarado decorating the facade of the pub El Hecho in Huertas Street. Every year the Spanish magazine Nuevo Estilo invites several designers to decorate the facades of the shops in this central neighborhood, there are also pop up stores during these days and also an antique market on the Cervantes street. The neighborhood is very uplifting these days full of colour and creativity in every cornet and this year will last for one week so don't hesitate to have a walk around if you are in town.
Last year, DecorAcción 2015, had as its central theme the flowers and this year the theme is the sun so had the idea to use the sunflower as the main element for its constant search for light following the movement of the sun. We decided to make it with felt and it was possible thanks to the collaboration of a great shop called Fieltros Olleros that gave us the material (this shop was a great discovery for me as I really like this material!) and Rotugráfica did all the laser cutting of each piece to make us the assembly of each flower more easily,  I already collaborated with them in other projects because they are very professional so it was great. We also had the help of two wonderful volunteers who helped us with the assembly: Maria Josá and Isabel so, despite having spent a few days working around from sunrise to sunset to get everything done, we really noticed and greatly appreciated their help. Many thanks girls! And of course thanks as well to the companies that collaborated with us because without them it wouldn't have been possible.
Well, here I leave you with some pictures of the process and the final result. I hope you like it! 🙂
* Photos: Dalalba